FAST-ACTION BONUS!
If you order Dog Food SECRETS right now, I'll also throw in this additional bonus!
Included with the amazing information you get in Dog Food SECRETS 4th Edition package, you'll also get this book of 180 of the dog-owning community's favorite homemade dog food recipes.
This book is a new addition & already its a hit with our customers because these recipes have been submitted by hundreds of dog owners who've already tested them on their own dogs and got a 4-PAWS UP!
Now you can get your own copy free when you order today.
But to get this bonus, YOU MUST ORDER RIGHT NOW!
Yes! I want to get immediate risk-free online access to "Dog Food SECRETS 4th Edition" - a complete guide to feeding my dog a healthier, safer diet of calorie controlled ultra-nutritious food, proven to add up to 8.3 years of life!
Also, since I am ordering now I will receive the following bonuses totally FREE:
"Canine Diet Changeover Guide" so my dog can change to a healthier diet WITHOUT the gas, diarrea, vomitting & lethargy typically experienced when changing diet the WRONG WAY ($27.00 value).
"Homemade Happiness for the Hungry Hound" which contains over 180 homemade recipes developed and tested by hundreds of dog owners. ($37.00 value)
"23 Healthy & Delicious Doggy Treat Recipes" which contains 23 hand-picked dog treat recipes (with calorie breakdown) Andrew tested on his own dog, Ginger ($23.00 value).
AND FREE Life Time Updates to New Editions of Dog Food SECRETS (now in its 4th Edition), so I'll always have access to the most recent nutrition and feeding techniques as Andrew's team discover them, forever ($127 value).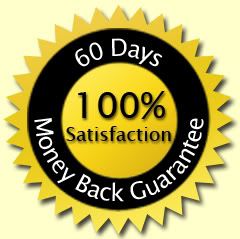 I understand that my account will be charged the special price of $57.00 $27. I also understand that my order is guaranteed as follows:
If within 60 days, I have not experienced an extraordinary improvement in my dog's health following the feeding advice and recipes in Dog Food SECRETS 4th Edition, or if I am dissatisfied with Dog Food SECRETS in anyway, my refund request will be honored instantly.
Please take a short moment to fill in the information below, and you will be re-directed to the Dog Food SECRETS download area, where you will be able to download the FULL Dog Food SECRETS 4th Edition package, including all bonus material.
You can be sure your information is 100 percent secure as we use Clickbank to process our orders and they are one of the largest and most trusted payment providers on the internet, processing thousands of orders every day.
Get An Extra $335 of Essential Information
When You Upgrade to the Dog Food SECRETS
4th Edition EDO Pack For Only $49.95
by Checking the Box
Over the past 3 years we've surveyed 11,741 Dog Food SECRETS customers, who are dog owners just like you & asked them what they need & want to know when it comes to their dogs.
Using those suggestions & feedback, not only have we released 4 editions of Dog Food SECRETS, we've also created these 6 SPECIAL guides, which means when your dog needs your help most, you'll be there with the everything she needs.
These are the 6 SPECIAL guides you receive when you upgrade to the EDO pack by checking the box before clicking the Add to Cart button:

None of these brands were recalled in during the dog food crisis of 2007!

Value: $150.00

The Confidential Dog Food Report: "The 9 Very Best, Ultra-Healthy, Dog Food Brands in all of North America" 2nd Edition Just Released!

We cross-referenced popular brands against 68 known deadly ingredients used by dog food companies & then filtered further on ingredients & preparation methods until only 9 were left standing. For each of these 9 brands you discover:

Complete ingredient listing
Product shortcomings
Product image
Product website
Where to find it

Also popular brands that didn't make it into our list
And why they were excluded

-----------------------------------------------------------

Many supplements still have dangerous additives, but not if you make it yourself (and you save $$)

Value: $37.00

Homemade Canine Supplements NEW!

Discover how to make:

Simple powdered calcium supplement
An easy-to-make powdered supplement recipe which contains all of the essential fat insoluble vitamins and minerals
A super-simple oil supplement recipe which contains all of the essential fat soluble vitamins and minerals your dog needs
A detox recipe so you can give your dog's system a regular "oil-change-and-service"
Dosage & frequency advice included

-----------------------------------------------------------


Specifically designed recipes for all stages of puppy developement

Value: $47.00

Pack Your Puppy With Power NEW!

How to feed your puppy from birth until it can begin an adult diet at 10 months of age.

Recipes and advice for each of these puppy feeding stages:

Stage 1: Breast Feeding (0 to 6 weeks)
Stage 2: Weaning
Stage 3: Teething
Stage 4: Solid Food
Stage 5: Adult Diet (10 months)

-----------------------------------------------------------


An EDO is prepared before their dog has a Special Need, not 'scramble'
to get answers after the fact

Value: $37.00

Recipes for Dogs With Special Needs NEW!

Be prepared with 26 recipes for the 13 "Special Needs" scenarios your dog is likely to face during its lifetime:

1. Anti-Heart Disease
2. Anti-Anemia
3. Anti-Cancer
4. Anti-Diabetes
5. Anti-Agression
6. Anti-Arthritis
7. Anti-Allergy


8. Recipes for the Pregnant Dog
9. Recipes for the Lactating Dog
10. Recipes for Suckling Puppies
11. Recipes for the Overweight Dog
12. Recipes for Kidney Cleansing
13. Recipes to Soothe the Stomach

-----------------------------------------------------------


A way to treat your dog's ailments naturally WITHOUT resorting
to artificial chemicals

Value: $37.00

Homemade All-Natural Remedies For The Unwell Wolf NEW!

Discover the all-natural remedies other dog owners use & recommend for problems such as:

Ticks & fleas
Upset tummy
Diarrea
Ringworm
Urinary problems
Joint pain
Travel sickness


Gingivitis
Itchiness
Mange
Skunk attack
Canine swimmers ear
Cough
Skin infection

-----------------------------------------------------------


All-natural soaps & shampoos giving your dog a beautiful coat & unique wonderful fragrance

Value: $27.00

Homemade All-Natural Soaps & Shampoos For The Dirty Dog NEW!

How to make your own canine soaps and shampoos including:

3 doggy shampoo soaps
a puppy shampoo soap
an herbal tea coat rinse
an aloe vera shampoo
and a dry shampoo for gluggy, sticky coat stains
Add to Cart Now
(remember to check the box)
"The EDO Pack Looks Like Too Much Information?"
Relax, you don't have to read everything now... the point is you add it to your EDO library for future reference when you need it, because upgrading your order now saves you hundreds of dollars if you were to buy these books separately AND valuable time when your dog needs your help the most.
Because we've read 11,741 completed surveys from dog owners like you, that own dogs in ALL stages of age and health, we have a rare insight into what you're going to need. In fact, we know what you'll need before you even do.
The EDO Pack has you and your dog covered.
Add to Cart Now
(check the box before you click the button)